As a classical musician, I've played a lot of chamber music. String quartets, trios, duos, you name it. To tackle a piece of music with your fellow musicians is one of the most rewarding experiences anyone can have. They key to having a great experience isn't necessarily the piece of music you choose to play, but the people you choose to play music with. Surrounding yourself with talented, open minded, enthusiastic people can turn even the most mundane task, or mediocre piece of chamber music, into a fun, and rewarding project. As a songwriter, the exact same can be said, and I am blessed to have Marc Aiello, Julie Spangler, and Greg Hansen collaborate with me on my upcoming album. 
I met Marc (lead guitar) a few years ago when I played violin on an album by his former band The Mitchells.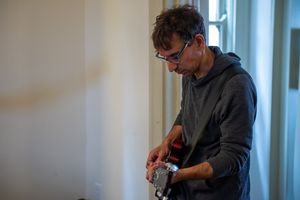 I was amazed by his ability to find melodies and countermelodies in a song. His attention to detail, his professionalism, and not to mention his incredible guitar tone, really spoke to my classical ear and mindset. On the current album in progress he brings colors, textures, and melodies that have elevated the songs above and beyond my expectations.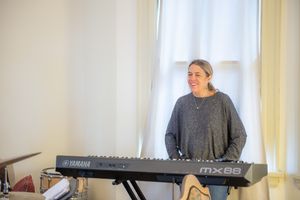 What can I say about Julie Spangler (piano) that hasn't been shouted from the rooftops already by anyone who's ever worked with her.  Long time pianist and arranger for the Cincinnati Pops, pianist and coach for the CCM Musical Theater Department, and countless other achievements, Julie has graced me with her musicianship since the early days of my songwriting endeavors. Her flawless technique, and musical sensitivity is music making on the highest level. To this new batch of songs, she brings everything any musician could ever want; virtuosity, a kaleidoscope of colors, and an unprecedented level of creativity. 
Greg Hansen (bass) has been with me from the beginning. Every album I've ever made, Greg has played bass on it.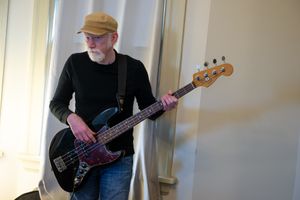 Not only is he an amazing bass player, but he's a fantastic musician, with instincts and musical tastes that I've come to rely on. His no nonsense approach to music has kept me from going off the rails, or getting way off track with songwriting. He's kept me in check, and I lean on him more than he probably realizes. I think every musician has their "rock", that person they look to for guidance, for criticism, and encouragement. Greg is my "rock", and if he's pleased, I'm pleased. 
One of the best pieces of advice I ever got was from the former music director of the SHREVEPORT SYMPHONY ORCHESTRA, Peter Leonard, back when I was a teenager playing violin with the SSO in the late 1980s. He said "get close to the doers, the practicers, imitate what they do. They will keep you motivated and challenged." I took that advice as a violinist, and it has paid off, exceeding my wildest expectations. I've also taken that advice as a songwriter, and his words ring true for me in that part of my musical life as well. I am so blessed to be close to these "doers, practicers, motivators" Marc, Julie, and Greg. And I look forward to sharing our collaboration with you over the summer!